shmoo06
I went to the pageant tonight with Kristen. It was fun. Briley won Junior Miss!! Yay for her!(she's my mom's co-worker's daughter, and his wife's almost gonna pop with twin girls. hehe) She's 11 and seems like she a 30 year old woman. She was so professional when she was up there, it's crazy. She also got Miss Photogenic and Miss Congeniality.
Anyway--I think I'm ready for this school year to start and end quickly. I'm bored outta my mind without a job and school gives me something to do.
Here's a VERY crappy picture that I took of Brecken(my nephew). He's 6 months old now and he's got cheeks that go to manhatten. hehe.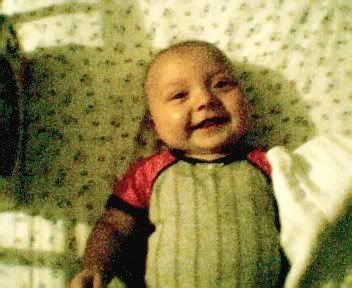 <*Shmoo*>
*damn unpretty*